I relentless observe my chosen profession with as much or more curiosity than I had in the beginning, oh so many years ago, and while it can all seem a bit like navel-gazing, I learn so much from what others do or do not do around public relations, social media, and corporate communications.

I am often drawn to the trickier situations, where there is no clear publicity winner or loser, and where there is an equal argument for both sides or approaches. As our nation seemingly becomes more divided, I am especially attuned to the politically tinged digital disasters, as we learn to navigate this new world, where traditional media is under attack, brands are politicized, and consumers can easily jump on a trending boycott with the swipe of a finger. And boy have I have been skewered a couple of times for even asking these types of questions.
Over on Linkedin, I was included as the top commentator by the Editorial team for my Wayfair post and the implications of their involvement with ICE and the subsequent employee walkout. I ended up deleting about a dozen racist comments and scolding a dozen more people (out of about 100 comments) for being bullies. I thought we could have a branding conversation, but oh no, it hit a lot of nerves – hard!
Viewing the more traditional social media posts, I find the #PRfail to be a daily occurrence with so many companies operating on social media, and clearly so few having an idea as to how to interact with media or the general population. And it's not just me watching. Media outlets often report on blockbuster PR fails, such as Bulldog Reporter's recent article, Seven PR nightmares you'll never believe happened. These are oldies but goodies and you think history won't repeat itself, but it does. Every. Single. Day.
While admittedly, I mostly critique with snarky comments and arm-chair quarterbacking, but what I have come to realize is that there is rarely a clear winner or loser in this. I long to find a scenario where the situation is black and white and an organization clearly did something wrong. Those are easy to dissect and share lessons about. More and more I find myself commenting that I can see both sides.
I was going to call this column PR Fail Friday, but it's not only the failures that we need to observe. We have to look at the success and the much more frequent issues that fall somewhere in the middle. So while I intended to show the good and the bad, plainly divided into two categories – backflips for the wins and bellyflops for the losses – many of my examples will be both. Maybe I should call those backflops or bellyflips. Not sure yet, but I will continue to add to this piece with examples and I would love your comments and feedback.
---
Backflips
---
Marriott Hotels says it will decline requests to use their hotels for ICE raids and related detentions of asylum seekers. There's no winning the political public relations game. Brands just have to stay true to stated values and ride the wave, as we can expect half of their customers to agree with their decisions, while the other half calls foul.
Country Time offers to pay fines for kids operating unlicensed lemonade stands. Cities were pretty quiet about this because no Mayor wants to be in the news for handing out citations to sweet, innocent, hard-working kiddos.
Nike faced backlash with #WalkAwayfromNike trending on Twitter, but if you follow the money, it's a public relations and shareholder win. Nike is the leader in winning the political public relations game because they consistently stay true to stated values and know that their shareholders, employees, and customer agree — despite those outsiders who call foul.
Disney's announcement of a black lead actress in the new live-action version of the Little Mermaid caused quite a splash. Racism is alive and well in America and a totally fictional character who lives underwater and isn't even human can stir the hearts and minds of citizens.
They are the champions. Again. Women's Soccer heated up debates on both sides, but blew the roof off their low profile with Megan Rapinoe's vocal stance and rise to celebrity outside of the sports world. People who have never even watched a soccer match checked in and rating and social discussions were off the charts.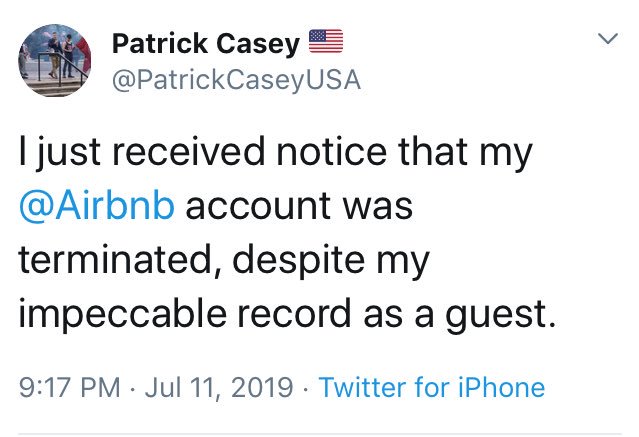 Airbnb has been very clear on their no discrimination stance, banning those that use the service for discriminatory activities. Their policy is very clear, but it does not stop the complaining from those who are affected. Again, this company knows its core audience very well.
Bank of America (usually on the bellyflop list) made good on a promise to review its business for ethics violations and to support the best interests of their customers. Take a cue from Nike's approach, a company can weather a social media storm if it's employees, shareholders, and core customers share the same vision.
Cats always win on social media. Even in Pakistan.
---
Bellyflops
---
Vans for the announced immigration ICE raids will be provided by Enterprise.

The ominous car rental companies slogan makes sense now, Emily Claire Goldman.
Adidas had a fun social engagement activity planned until swasticas were involved and their social media debacle produced racist and anti-Semitic tweets. You know what they say about the best-laid plans. Sadly, companies will have to learn the hard way that they must take control of their brand through every process, otherwise, risk being hijacked.
Boeing's $100 million pledge for 737 MAX crash victims sparks criticism and questions.
Wayfair attempted to soothe employees with a donation to the Red Cross, but it all seemed to backfire as staffers walked out to protest the selling products to ICE. The #WayfairWalkout hashtag and account had 20,000+ followers within a few hours and the social media hubbub is ongoing.
Nike pulls 'Betsy Ross flag' sneakers apparently after Colin Kaepernick gets offended, prompting the #WalkAwayFromNike hashtag. See above to review the financial gains made by the company immediately after, likely nullifying this boycott's impact.
Kraft's #LieLikeAParent campaign was met with resistance because, while we can all be jerks online, do not even suggest that we lie to our kids.
Kim Kardashian is facing backlash for her new shapewear line formerly known as Kimono Body, with many people saying the brand name disrespects the Japanese kimono. She said she would not change the name and that it is not culturally offensive, then announced that she'll change the name.
Starbucks is just always in the wrong place at the wrong time. Even in their own stores.
Arizona's Governor was not walking the walk on his Nike decision. First, Doug Ducey slammed Nike for canceling the release of a shoe featuring an early design of the American flag, saying it had "bowed to the current onslaught of political correctness and historical revisionism." Then Darren Rovell and others on Twitter pointed out that he after very publicly pulled incentives for the company to have a plant there, two days later, he shows up to 4th of July party with Nikes on his feet! (Photo from @CoconinoDems). Then, doing exactly what he criticized (bowing to public pressure) he welcomed Nike back into the state with open arms.
Zoom apparently created an app to install a server on your Mac and even if you uninstall the app later, it will turn on the computer camera without your knowledge. Yikes!
If you would like to learn what NOT to do, check out these other posts: